---

The Amazing Tea Race
---
INDIA: NILGIRIS DISTRICT
In the little village of Pororai, you'll meet the tea revolutionaries of the Nilgiris District. Through the power of biodynamic agriculture, Teaneer is crafting quality teas that have never before been seen in the region.
Travel Notes

Coonoor, Nilgiris District: Traveling through the beautiful, wind-blown tea hills from Coimbatore to Coonoor is always a delight. That is especially true if you know you'll soon be in the incredible gardens of Teaneer.

We take the journey to Teaneer with a member of our tea family, Tico Aran. He is passionate about tea and sustainable land development, and runs Jojo Tea in Miami, Florida. This is his first time to see a tea garden in person.

You can only imagine our excitement, passing wild monkeys and vast landscapes of tea on the way to Pororai Village.

There we reconnect with our friends, Prabhu and Suresh Nanjan, a pair of brothers who are the revolutionaries of Nilgiri tea.
PHOTO DIARY: TEANEER, VIJAYALAKSHMI NATURAL FARM
Nilgiris, meaning "blue mountains", is Southern India's center of tea production. Most of the tea here is produced by factories that purchase raw tea leaves from small family farms. Unfortunately, the factories don't pay the farmers very much for tea leaves, no matter how mindful they are with the plucking standards or the leaf material.
Farmers have resorted to using sickles to harvest more and more leaf, giving little concern to quality if that means they can harvest more and put food on the table for their families. This was the way that the Nanjan Family grew and sold tea, too, until brothers Suresh and Prabhu decided to make a radical change on the family farm, located on the steep slopes of the Nilgiris.
Against the advice of their peers, they spent years converting their fields to become completely pesticide free and designed for handcrafting teas. When we met Suresh and Prabhu last year, they had already successfully switched over their farm to all-natural methods, and were starting to develop teas of amazing quality.
Meet Prabhu at Vijayalakshmi Farms, as he explains his life's mission at Teaneer.
Now, we get to meet Suresh and Prabhu again, a year since we first visited their farm. They were happy to see us, and we spent a whole evening catching up and talking about the farm's progress. The brothers have worked very hard to make this dream come true, and the family is finally starting to see that their revolutionary approach is working!
The entire Teaneer operation is built on hard work and an attention to detail. In all of their gardens, they have fostered a great diversity of flora among the tea plants, creating a beautiful, natural terroir. Prabhu and Suresh specifically practice biodynamic agriculture. Biodynamics is a combination of science and Indian tradition which follows the moon calendar, dictating harmony with the surrounding environment.
For example, the land is biodiverse with other plants like edible vegetables, spices, and medicinal herbs growing alongside the tea plants. Cow horns are used as a container for any compost they want to put in the soil, as they serve as a natural receptable that will decompose naturally. The Teaneer garden is beautifully in-sync with its homeland.
One of the gardens on the farm, called the Aristocrat garden, is Prabhu's experiment in semi-wild trees. The trees he planted here were grown from seed, and allowed to flourish without any pruning. With their vibrant leaves, Prabhu crafts his Aristocrat Green tea. We were fortunate to help Prabhu with the Aristocrat harvest - it was a real treat, as the Aristocrat semi-wild trees are are only harvested twice a year to allow them to grow. Here's our friend Tico with Prabhu among the tall, semi-wild tea trees.
Given Prabhu's strict plucking standards (only the smallest two-leaves-and-a-bud sets) it took us several hours before we had enough leaf for processing. It was hard work for such a small yield, but it was worth it to produce such awesome leaf material while we talked and joked with our farmer friends.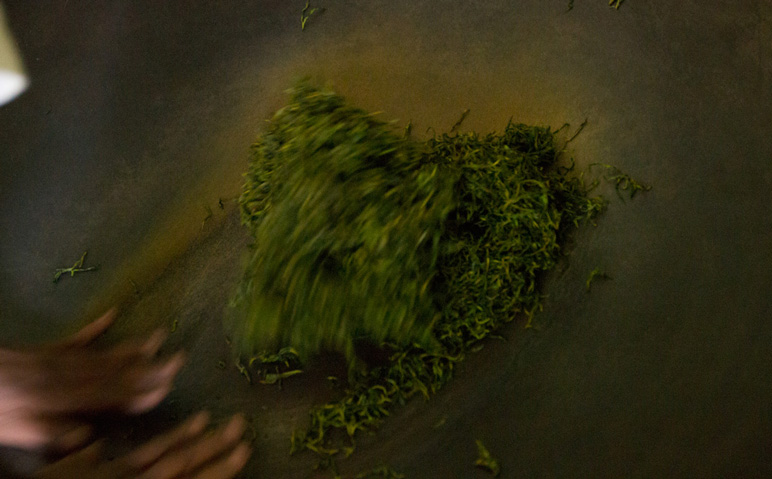 At the processing room, we split up the harvest into two batches. Prabhu pan-fired one batch in a wok to create Teaneer Aristocrat, while he crafted his first experimental white tea with the rest of the harvest. Where we could, we helped with the difficult, time-consuming task of rolling the leaves. Tico even tried the Taiwanese method of ball-rolling. Experimentation is always important!
We had great fun this day of processing, and always learn so much from Prabhu and Suresh at Teaneer. We look forward to sharing the teas we helped craft with you, and to bringing more awareness to this incredible brotherly team from Nilgiris.